Organize your documents
Organize, arrange, and view your documents, photos and video in our easy to use timeline.
Choose what to show
Import page ranges from PDFs or create clips from lengthy videos.
Create custom views & groups
Create and save specific time periods. Jump to pre-selected times or expand the current view.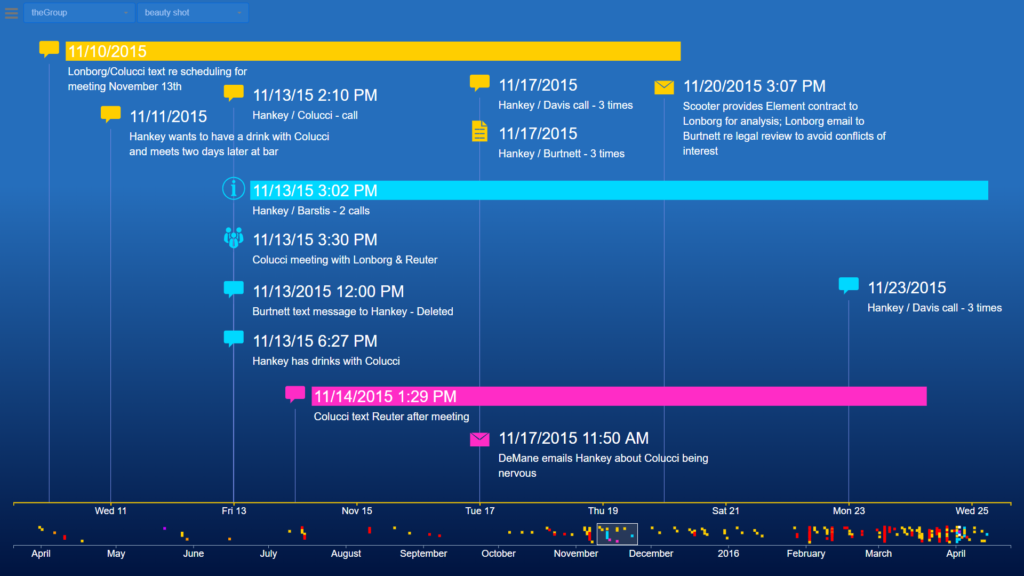 Make Connections
TimeLaw has several options to customize your timeline to suit the needs of your case.
Highlight similar events with colors, icons, and spans. Create event groupings and jump between different views. Show and hide events for different witnesses or to show a specific sequence more clearly.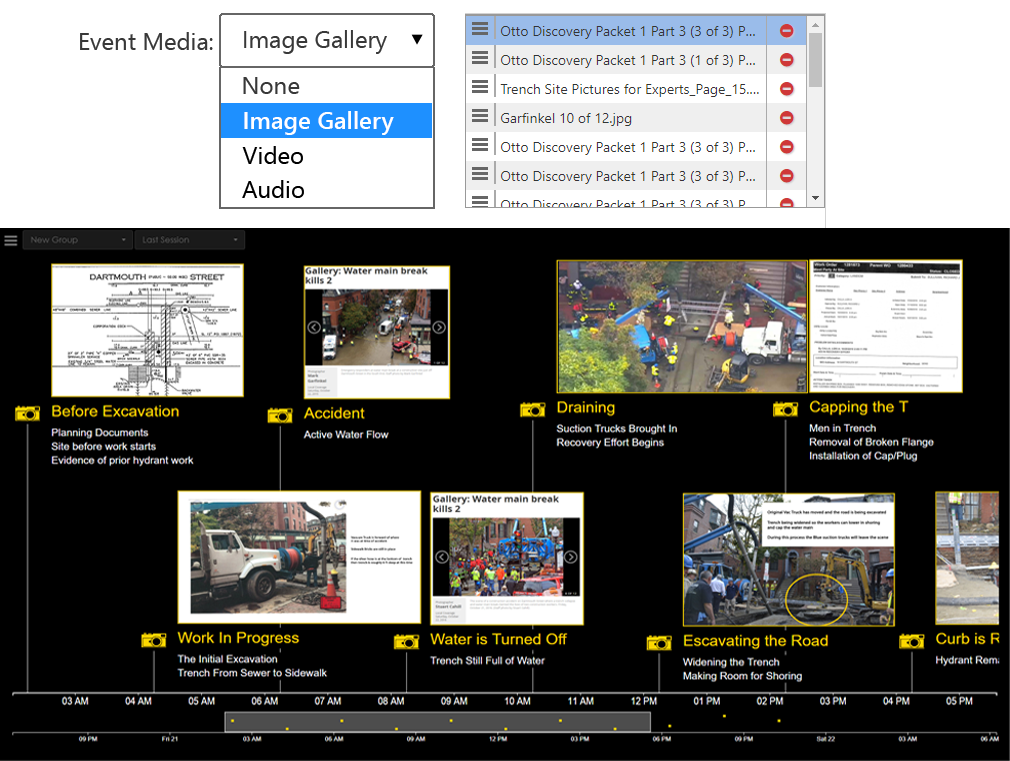 Include Media
Each event can be linked to media. TimeLaw can import and present many common media types such as, JPEG, PNG, PDF, MP4, WAV, & MP3.
Images can be added to a gallery. Choose the start and end times to create video clips within the application. PDFs can be imported as image sequences and individual pages pulled out.
Access to your evidence is only one click away!
Additional Features
Print to PDF – Export either in spreadsheet layout or as a set of chosen views
Export to Excel – Export the details of your events and open in Microsoft Excel
Import from Excel – We provide a template for creating and adding events imported from Excel
Turn Events On/Off – Events can be individually turned on/off or shown as a group
Custom Views – Save sections of time as in a View and arrange Views into a presentation
Groups – Save Views and on/off states of events into custom groups and switch between them
Event Media – Link video, image galleries, and audio to events
PDF Import – Import PDF page range as an image sequence and add to galleries
Playback Range – Import Video and select the Start and End time to play for each event
Poster Images – Add images to the timeline with or without text
Event Icons – 50 included icons, custom icons can also be added as SVG files by the user
Spans – Add an end date to events to create a time-span
HTML – Text fields support HTML styling, if that's your thing
Try TimeLaw for free
Curious about how TimeLaw can help you organize, prepare, and present your evidence? Download a free 30-day trial. No commitment to buy, no credit card required.